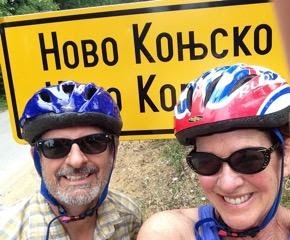 About
Kathy and Allan served in the Peace Corps from 2015 until 2018 in North Macedonia. Kathy worked in the Education sector and Allan worked in Community Development.
Before joining the Peace Corps Kathy worked as a teacher teaching kids in pretty much every subject, making kids smarter and better humans. She mostly succeeded and her kids loved her.
Kathy took her skills to the Peace Corps and served at an Elementary/Middle school as a teacher trainer and English teacher. She developed curriculum and trained teachers locally and across Macedonia in classroom management, use of new techniques to teach English, and use of games and props to make learning fun. Her kids loved her there, too. While working at her school, Kathy started a yoga community, worked with GLOW (Girls Leading Our World), Spelling Bee, and teamed up with her fellow teachers to make painted playgrounds for schools in the area.
Prior to the Peace Corps, Allan worked in the environmental protection field in industry and consulting; his last job before retirement was helping clean up nuclear waste. While serving in the Peace Corps, Allan worked with an NGO that helped kids learn science, environmental awareness, and about nature. Allan also worked with the local city on urban improvements to develop new parks, landfills, and river cleanup projects. Allan also trained local professionals on business systems and planning.
Kathy and Allan became interested in the Peace Corps when their son served in Malawi, Africa in 2005-2007. They travelled to Malawi, saw the Peace Corps in action and the idea of doing this fun work struck a chord. So, when they retired, it became part of their new adventure. The Peace Corps lived up to its billing as the hardest job you'll ever love and has changed them, and hopefully others along the way.