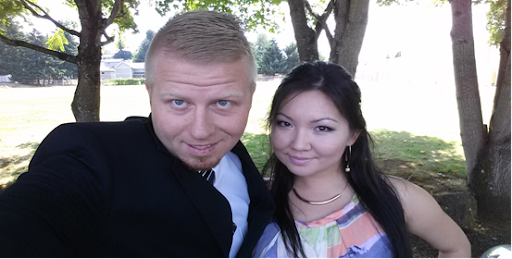 About
Aaron served in the Peace Corps in Kazakhstan (a former Soviet country) from 2007-2009. Dina was a Kazakhstan national and was attending a university that was a 4 hour bus ride and additional 5 hour train ride from where Aaron lived and worked for a local non-governmental organization.
Before joining Peace Corps, Aaron worked in Boise in the banking industry, and had a growing desire to help people in a different area of the world, travel a bit, and gain different experience. Because of his work in finance and business, he was placed as an Organizational and Community Assistance Program volunteer. He taught English to children of all ages, worked on an ecological project that planted flowers and plants in the center of the town and beautified the town while creating jobs, an HIV/AIDS awareness project that educated and supported the local rehabilitation facilities, coached a local high school basketball team, and led different summer camps for youth, including basketball, ultimate Frisbee, and a two week nature camp.
Before attending university, Dina worked with her mom selling fresh fruits to train passengers that stopped in her city daily. She was also fond of the English language and studied and practiced it often.
In January 2009, Aaron traveled to Dina's city to help fellow American Peace Corps volunteers train local English teachers. The 4 day conference was filled with various activities which included a night out at a local restaurant, with volunteers playing guitar and singing American songs. It was at that restaurant that Aaron randomly sat down next to Dina, in the seat she was saving for another friend. After a short 5-minute conversation, Aaron and Dina made a connection and later connected over Facebook.
In 2011, Aaron was preparing to move to South Korea to teach English and Dina was living and working in Kazakhstan. They reconnected over Facebook and eventually met up in Korea and spent time there then traveled to Russia, Ukraine, and Thailand together. They decided to tie the knot in September 2013 in Boise, with Dina coming over to America on a 90 day fiancé visa.
Now Dina works as a Russian-English phone interpreter in the evenings and is a full time mom during the day. She loves all things makeup and music. Aaron works for the State of Idaho Health and Welfare department, as a Business Analyst.